In an article earlier today, we discussed some creative fundraising ideas for schools. The response to this post was so positive that we wanted to break out a few of the ideas and deal with them individually. So today we are going to discuss the wonderful world of sports photo buttons; and specifically, why sports buttons are great fundraisers for high schools.
If you have ever gone to a high school football or basketball game, you have probably seen multitudes of women covered in decorative photo buttons. Typically, the buttons will have either the school logo, or pictures of athletes or cheerleaders, which are presumably their children. The photo buttons are usually brightly colored and feature close-up shots of the athletes and are a great way to show support for a school or child.
What many savvy high school athletic departments have found out, but that others may not realize, is that these sports photo buttons are easy and cheap to make and can return a very nice ROI as a fundraising product.
To illustrate, we will use our products at American Button Machines as an example.
Here is a quick list of our most popular photo button systems:
Photo buttons are typically made with 2-1/4 inch, 3 inch, and 3-1/2 inch buttons. The two larger sizes are
most widely used because you have a much larger canvas to work with. The allows you to put the student-athlete's picture on the photo button and then customize the text. A 2-1/4″ button gets a little a crowded with a much smaller picture.
The typical sports photo button costs about a nickel to make and most athletic departments of photo vendors who produce the buttons for the schools can charge anywhere from $5-$8. This is a pretty significant profit margin. And the more you make and sell, the cheaper the overall cost becomes.
The most cost-efficient means of producing and selling sports photo buttons is for athletic departments to purchase their own button machine, and then the supplies in bulk When you spread the cost of a button machine and supplies over the entire body of time during which the sports photo buttons are made and sold, the unit cost decreases in perpetuity.
A common question is what is the best way to acquire the actual photos that will be used to produce the sports photo buttons. Button makers can take their own photos, or team up with photographers who take sports photos. (Side note, for any sports photographers reading this: you can add photo buttons to your product line for another avenue of revenue as well.)
With the top-of-the-line 3 inch and 3-1/2 inch button machine products sold by American Button Machines, you can use true photo paper, which is much thicker than normal printing paper. No machine other than the one sold by ABM allows you to do this. If you want to make a 2-1/4″ button, you can use photo paper with 2-1/4″ photo punch.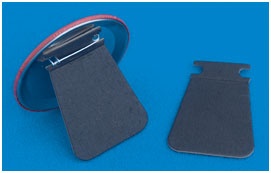 If you are interesting in learning more about sports photo buttons, we have compiled an entire Photo Button Making System on our main website to help you. It includes everything you would need to get started.
And, as an additional complementary item, many people have found that button easels are a great purchase, as they allow you to display a button on your desk or bookshelf when it is not pinned to your clothing.
In summary, sports photo buttons have been in use for a long time by many high schools as a way to create nice looking team and athlete memorabilia at a very low cost. Those high schools that have an enterprising mind have found that selling the buttons for an easily palatable cost of $5-$8 can add valuable revenue to the operating budget. So whether you want to make your own sports photo buttons at home for your family, or are looking for great fundraiser ideas for a high school sports program, a sports photo button making system could be a valuable, and fun, long-term investment.
Brighid Brown – Director of Blogging and All Things Cool at ABM