At American Button Machines we pride ourselves on being a one-stop shop for any supply you may need for a wide range of button making projects. What a lot of our visitors and customers do not realize is that many of our products also have useful functions outside the realm of button making.
While our usual focus on this blog is to revel in the wonderful world of buttons, we are actually going to – don't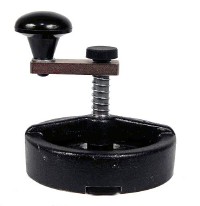 be alarmed – take a brief step outside of button making to discuss the most versatile product that we sell: adjustable circle cutters.
Obviously the circle cutter tool is a prominent product in our overall line of button making supplies and accessories because it is perfect for cutting circular graphics and photos for making pinback buttons. However, the purpose of this post is to help you step outside the button making box and understand the wide variety of additional projects for which a circle cutter tool can be a perfect tool.
In addition to cutting graphics for pinback buttons, many arts and crafts aficionados use circle cutters to cut numerous items other than paper, and have found tremendous benefits. Schools, arts and crafts lovers, companies, and families have purchased our adjustable circle cutter to cut circles out of paper, thin plastic, construction paper, poster board, and fabric.
Here is a quick video to show you how a circle cutter tool works:
Question: If your son or daughter is putting together a collage project for school and wants to cut circular images out of magazines or newspapers, what is the easiest tool he or she could use?
Answer: A circle cutter.
Question: If you are looking to dress up a button project by adding embroidered fabric to a buttons, what product is perfectly constructed for cutting circles out of fabric?
Answer: A circle cutter.
Question: If you are decorating a classroom, or an office, or a bedroom, and you would like to use circular cutouts as part of the decoration, what product would allow you to cut circles with several different diameters?
Answer: A circle cutter.
Question: What is an essential tool for any scrapbooking enthusiast who wants to vary the shapes, sizes, and display of pictures and mementos?
Answer: A circle cutter.
Question: If you are baking cookies and want to cut your dough into perfect circles, what is the best product to use?
Answer: Okay, probably not a circle cutter. (Although, if you are not averse to the cleanup and your cookie cutters are missing, you certainly could!)
While the last example is obviously on the ridiculous side (and suddenly made me very hungry), the point is that a circle cutter is a product you can use repeatedly, even when you are not working on a specific button making project.


Our circle cutters are expertly crafted and built to be long-lasting and durable, despite their economical price. In addition, they come with free centering templates and have easy-to-adjust pre-set stops for five popular button making sizes: 1", 1.5", 2.25 ", 3", and 3.5". Each circle cutter also has top-mounted quick release knob for "odd" size incremental adjustments throughout the full range from 1.313" to 4".
Important note: many other more cheaply made, yet more expensive circle cutters leave an unsightly and annoying pinhole in the center of your paper, board, or fabric. This is because they cut like a compass. However, our circle cutters actually hold the material with four knurled edges located on the bottom of the cutter that are kept out of the way of the cutting blade. This allows the circle cutter to hold the material steady and keep it from sliding around, while keeping the finish pristine and devoid of the holes that other cutters leave.
Find out more for yourself. Here is the link to our circle cutter at the American Button Machines main website. If you have a question about a project, and want to know whether or not a circle cutter could be of assistance, feel free to leave a comment here and we'll respond. Also, we include an adjustable circle cutter in our Beginner Button Making Kits, as well as in our Z-Series Fabric Button Making Systems.
But, as we have explained today, you do not have to be in the market for button makers or button making supplies to be able to gain value from circle cutters. If you are a creative, crafty person, if you are a teacher or a scrapbooking buff, or even if you are just a parent with imaginative kids, a circle cutter will be a valuable addition to your arsenal of household or office tools.
Brighid Brown – Director of Blogging and All Things Cool at ABM