Welcome to The Button Blog
by American Button Machines!
We are so glad that you have decided to join us at The Button Blog, where our goal is very simple: to celebrate the wonderful world of buttons.

Please, browse The Button Blog to learn more about making buttons, and to discover the many varied uses of a button machine and the myriad novelty items that you can create with your own button maker.
***Featured Product: Flashing LED Buttons

Know what your buttons need? A red flashing LED light, that's what! It'll make the message of any button pop.

Click here for more information.

_______________________________________





Recent Posts
---
Here at ABM Headquarters, we love the month of March. Not only because winter is almost over but because it also signifies the start of March Madness, the annual NCAA men's basketball tournament.
Every year we like to do our own hat tip to the tournament and begin our own March Magnets!  This year we are doing a blog series on the different types of button making magnets we offer and how you can use them.
---
---
At American Button Machines we understand you work hard for your money and we're all striving to find the best value for our dollars.  The most frequent requests we get are for discount offers & promo codes to help defray the costs of button making.  We've been searching for a way to make this happen and feel we have finally hit upon the right answer.
We are proud to announce, and know you are going to love, our new My ABM Rewards Program.  Beginning with your very next purchase, each order you make online will tally a reward totaling 2% of the purchase price which you can use as a discount on a future transaction.
---
---
We find ourselves with an unusual situation today in that we have come into possession of a slightly used 2.25" button machine.  As you know, our button machines are beyond sturdy. We even replaced some parts to make sure it is in tip-top shape.
We've been throwing around ideas of what to do with said machine and decided to have a contest to GIVE IT AWAY – FOR FREE!
All you have to do is like us on Facebook.  If we reach 1500 Facebook likes within the next 60 days, we'll pick a name at random from our "likers", and that person wins. It's that easy.  If you already like us on Facebook, and want even more chances to win, then  you can also like us on Google + and/or post a Google comment or review and we'll put your name in twice or even three times.  (Once more for the like and another for the review.)
So, talk about us on Facebook and Google.  Share our information with your friends so they can like us too and we reach that all important 1500.  We want someone to win and there's no reason that someone can't be YOU!
Until next time, Happy Button Making!
By Brighid Brown, Director of Blogging and All Things Cool at ABM
---
---
Here we've all just begun to recover from the craziness that comes with having not one, not two, not three but four major holidays back to back and now, believe it or not, Valentine's Day is right around the corner.  We know, for the guys especially, finding something unique for this very special holiday can be trying.  Well, ABM has just the thing to make your significant other's heart melt.  Imagine the look you'll get when she opens her gift and finds a keepsake picture button of the two of you overlaid with a heart-shaped accent ring.
---
---
Back in January, we told you about Magneta-Snaps Interchangeable Jewelry, then the latest addition to our ever-burgeoning line of button making products and accessories.
Today, we have even better news!
We are extending our line of interchangeable magnetic jewelry to include a product that is just as fun, yet somehow even more convenient than Magneta-Snaps:
Introducing…Clix Magnetic Interchangeable Pendant Blanks!
---
---
American Button Machines is pleased to announce the release of our new website, designed with a fresh new look, user-friendly navigation along with additional quantity discounts, shipping options and reduced shipping rates.
We have taken significant time during the design process to think through not only how we do business, but, perhaps more importantly, WHY we do business. Everyone at ABM was involved in this evolution and the new website is just the beginning of our focus to improve user experience, streamline product delivery and educate button makers around the world.
Stay tuned online at 
www.AmericanButtonMachines.com
 as once again we are leading the pack with our soon to be released ABM Rebate Program. Keep checking back with us, 2014 is going to be a great year for making buttons!
Until next time, Happy Button Making!
By Brighid Brown, Director of Blogging and All Things Cool at ABM
---
---
Here are a couple of oldie but goody Christmas buttons made on our Build-a-Button software.
Tis the season, what buttons are YOU making?
Wishing everyone a safe and happy holiday season.
By Brighid Brown, Director of Blogging and All Things Cool at ABM
---
---
Greetings Button Makers!
We have some oh so exciting news to share today and can hardly contain ourselves.  Over the last several months we've been analyzing your survey answers, emailed comments and online reviews.  All of our research led us to the conclusion that a NEW WEBSITE is in order. So out with the old and in with the new!
We are hard at work putting the finishing touches on our new site and intend to launch somewhere between December 18th and 27th.  Once we flip the switch, our site will be unavailable for 24-48 hours.
So if you need any button making supplies, you may want to order them now instead of waiting for the rush.
Waiting for last minute Christmas gifts – order now!
Purchased a new machine and waiting until after Christmas to purchase accessories like pinbacks magnets or mirrors – order now!
Order button supplies now so you are not caught in the dark or in the mad rush when the lights come back on.
Of course you can always call us to place an order but we may experience (dare we say it) unusually high call volumes.
We will make another announcement when the new site is ready.  Stay tuned as we are rolling out some incredible new products and services in the next few weeks. The end is nigh but this is only the beginning; button making will never be the same…
Until next time, Happy Button Making!
By Brighid Brown, Director of Blogging and All Things Cool at ABM
---
---
Due to an ice storm, American Button Machines is closed today. Please visit our website at www.AmericanButtonMachines.com to place orders online. We anticipate UPS to resume their normal shipping operations on Monday. Have a happy and safe weekend!
By 
Brighid Brown
, Director of Blogging and All Things Cool at ABM
---
---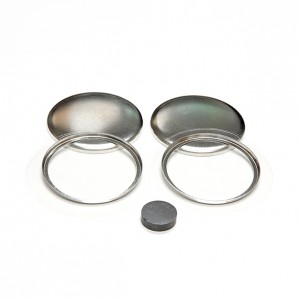 Decorating the Christmas tree is a time-honored tradition much-loved by countless families across America and throughout the world. It is a wonderful experience to share with the entire family and brightens up houses for the entire month of December.
Over the years we've heard from many of you who wanted to make Christmas ornaments but were stumped as to how to achieve a useable, but pretty, end product. Ever aspiring to offer our customers innovative solutions, the wonderfully creative staff here at ABM has designed 2.25" and 3" Christmas Ornament Sets.
These sets include all the components needed to make a beautiful, double-sided ornament; you need only provide the graphic. And we've got you covered there, too – we offer several professionally designed Christmas and winter themed collages on the ABM Design Marketplace.
---
»

***Brand New Features!***

ABM is proud and excited to announce the launch of the

Build-a-Button Online Design Center

, the

greatest web application for designing button graphics in the history of button making!

Try it out now for FREE during the beta testing period: Click:

http://build-a-button.com
»

Recent Button Blog Posts
»

Free Tutorial Videos

The following tutorial videos

show

you the step-by-step process for creating printable button graphics using various software programs, including the ABM-developed

Build-a-Button.com

Online Design Center.
»

Button Making Templates
»

Button Information Resources
How to Make a Pinback Button
Click on the video to view full screen. If you are using Internet Explorer, the video may not appear. If that is the case, just hop on over to the American Button Machines YouTube page to view all of our button making tutorials.
Follow the link to view more
button making video tutorials
from American Button Machines.
Fabric Buttons Video by ABM