Welcome to The Button Blog
by American Button Machines!
We are so glad that you have decided to join us at The Button Blog, where our goal is very simple: to celebrate the wonderful world of buttons.

Please, browse The Button Blog to learn more about making buttons, and to discover the many varied uses of a button machine and the myriad novelty items that you can create with your own button maker.
***Featured Product: Flashing LED Buttons

Know what your buttons need? A red flashing LED light, that's what! It'll make the message of any button pop.

Click here for more information.

_______________________________________





Recent Posts
---
You asked and we are delivering!
A few months ago we began offering a hand-held punch cutter for 1" buttons.  Right out of the gate we were getting requests for larger sizes.  Well, the wait is over – say hello to the Dynamo Hand-Held Graphic Punch Cutter for 1.25" AND  1.5" buttons! » read more
---
---

Dynamo Hand-Held Punch Cutter Specs
Dimensions: 8.5×2.5×3.5
Weight: .95 lbs (less than a pound)
Material Type: Metal
Used For: Punch graphics for 1" buttons. Final graphic cutting size is 1.313".
Current Price: $74.95
American Button Machines Review
Of the many tools we offer at American Button Machines, the Dynamo Hand-Held Punch Cutter is one of the easiest to use and most lightweight. This special punch cutter combines the best aspects of two already great products, borrowing precision from the heavy-duty tabletop punch cutter and lightweight portability from the adjustable circle cutter. Even better, it's less expensive than both those tools. » read more
---
---
We are considering developing an e-book and would like to get your feedback. We are reaching out to our button making community to ask if this is something you would use now,  or if not, you wish was available when you first started making buttons.
Take a quick 10 second survey and let us know your thoughts!
---
---
As you may have noticed, the calendar recently flipped to March. For sports fans, that means one thing: March Madness!
March Madness is, of course, the annual NCAA men's basketball tournament. Played over the course of three weekends, it is renowned for drama, Cinderella stories, and some of the most exciting finishes sports has to offer.
But we have something even more exciting planned for March. Well, maybe it's not quite that exciting, but I bet some of you will definitely like it more than basketball:
March Magnets!
Here's how March Magnets will work: if you buy 100 1" magnet sets, you will receive a free Magneta-Snap pendant (normally $11.95). All you have to do is enter code MSP at checkout!
We know how many of you are curious about the Magneta-Snap pendants that have taken the ABM world by storm. This is a great way for you to be able to try them out when you get a product that has so many varied uses, like the magnets.
And note: we are setting up March Magnets specifically as a way to thank those of you who read our blogs, subscribe to our newsletters, and follow us on Facebook and Twitter. So…thank you!
And what can you do with your magnets and Magneta-Snap pendant? Well, why not combined March Madness and March Magnets? Create a 1″ button for your favorite team, slap a magnet on the back of it, and then snap it right into the pendant for wearing on a necklace. You're ready to support your team!
Which brings up a great question: who is your favorite team? Anyone have an especially strong rooting interest this March?
Brighid Brown – Director of Blogging and All Things Cool at ABM
---
---
It's time for another installment of the ABM Customer Spotlight, where you submit your buttons to us and we proudly display them here at The Button Blog.
---
---
Hey, check out this pin on Pinterest: 1966, Brand campaigned to have NASA release the then-rumored satellite image of the entire Earth as seen from space. He distributed buttons for 25 cents each asking, "Why haven't we seen a photograph of the whole Earth yet?" He thought the image of our planet might be a powerful symbol. In 1968, a NASA astronaut took the photo and in 1970 Earth Day began to be celebrated.
http://pinterest.com/pin/387872586627196867/
Brighid Brown - Director of Blogging and All Things Cool at ABM
---
---
The latest addition to our line of fun and innovative button making products are our flashing LED buttons.
We released them just before Christmas, and demand absolutely shot through the roof. We've been able to get restocked a bit now that the new year has come (order here), and we also have a new resource to help you out when using them.
---
---
Don't look now, but Valentine's Day is almost exactly a month away.
That's right, you've barely had a chance to take a breath from the wild and crazy Thanksgiving-Christmas-New Years triumverate that ends the year before the first big holiday of the new year is just around the corner. (And, *ahem*, guys…we're really talking to you here. We know the ladies know that Valentine's Day is on its way. So make sure that you do too.)
The question is: what can you do for your special someone this year that will be sweet, sentimental, and original? Luckily, we're here to help. And the answer is our heart accent rings, which enable you to make lovely heart-shaped buttons for Valentine's Day!
---
---
In our last blog post, we teased you about our brightest new button making product that would be here in a flash and that we would enlighten you about soon.
Well soon is now here…and you've surely already surmised what this new product is that's about to light up your button making lives!
Flashing LED button kits! They are here! (Order here.)
---
---
Not long ago we introduced you to the newest addition to our robust line of cutters. The  Dynamo Hand-Held Graphic Punch Cutter has been all the rage ever since we added it, and now you can actually see why instead of us just telling you why.
We now have a video showing the Dynamo Cutter in action.
So if you are on the fence about buying or, or if you just want see one of the best cutters on the market in action, go view the video: click here to view video.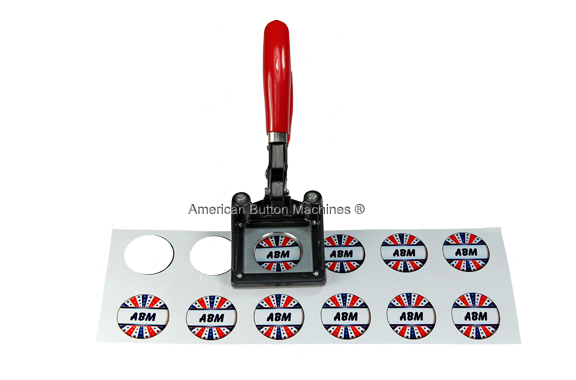 But wait…there's more!
ABM is launching an exciting new product in 2-3 weeks. We can't tell you exactly what it is yet, but let's just that you shouldn't blink…because it will be here in a flicker of time.
No, really, it'll be here in a flash. Then we can tell you about it.
What? You can't wait to find out? Just be patient, dear button making friend. We'll soon enlighten you with what it is. And we're pretty sure you'll love it.

It's definitely one of the brightest button making ideas we've ever come across!
So stay tuned…
Brighid Brown – Director of Blogging and All Things Cool at ABM
---
»

***Brand New Features!***

ABM is proud and excited to announce the launch of the

Build-a-Button Online Design Center

, the

greatest web application for designing button graphics in the history of button making!

Try it out now for FREE during the beta testing period: Click:

http://build-a-button.com
»

Free Tutorial Videos

The following tutorial videos

show

you the step-by-step process for creating printable button graphics using various software programs, including the ABM-developed

Build-a-Button

Online Design Center.
»

Button Making Templates
»

Button Information Resources
How to Make a Pinback Button
Click on the video to view full screen. If you are using Internet Explorer, the video may not appear. If that is the case, just hop on over to the American Button Machines YouTube page to view all of our button making tutorials.
Follow the link to view more
button making video tutorials
from American Button Machines.
Fabric Buttons Video by ABM